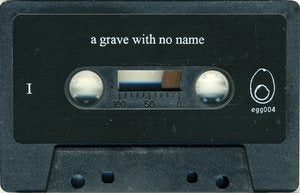 A Grave With No Name - Lower
"Beauty over substance"
Although the name would suggest that Alexander Shields' solo project is a hard-hitting heavy metal band, A Grave With No Name actually fits in quite nicely next to Boiled Egg labelmate OUPA, the piano based side project of Yuck's Daniel Blumberg. An extremely lo-fi and quirky gem, their cassette only 2011 sophomore album,
Lower
, runs under 30 minutes but will leave an impact that lasts a lifetime.
Each track on the album feels like the ghost of a song. They don't exactly feel fleshed out, (only one track stretches beyond two-and-a-half minutes), and are mainly just looped based instrumental tracks in the vein of Explosions in the Sky. You may think that it sounds like a recipe for disaster, but it's actually what makes this album so special. Take the opener "White Glass" for example. Chugging along at a moderate tempo for two minutes with its simple, warbly guitar riff the song is just short enough to send you into a trance without feeling repetitive. The next song, "We Passed the Moon", takes a more conventional rock approach. Chimes in the background waltz with Shields' haunting falsetto. A cavern of reverb and beauty, the song is easy to get lost in yet once again its brevity only whets your musical appetite. It's almost like its engineered to keep you coming back for more.
The many instrumentals on
Lower
aren't merely bridges between the songs with vocals. They're actually the backbone of the album. Tracks like the ultra-minimalist "December Chimes" and the abstract, yet stunning "Khonnor" add to the ghostly feel that saturates the album. The flip side of
Lower
has a much more sparse feel than side A, which begins with "Saskia", a track consisting of little more than layer upon layer of wailing oohs and aahs provided by Shields. The highlight of side B is "I Know How Long She Haunts This Place". The piano on this track is absolutely gorgeous, feeling like a lost movement from French composer Erik Satie's Gymnopedie series. Wrapping up the 11-song set is "You're Gone", utilizing a reverbed-up acoustic guitar to create a distorted wall of dream-pop magic.
If you're a music fan who believes in beauty over substance like I do, or you just love cassettes, then
Lower
is a must buy. Purchase
here
and listen below.